Duitsland ziet Nederland weer als hoog risicogebied. Dat betekent dat Nederlanders sinds gisteren alleen nog de grens over mogen met een coronabewijs (genezen, gevaccineerd of getest).
Mensen die naar Duitsland gaan moeten zich vooraf aanmelden op de site einreiseanmeldung.de. Dat hoeft niet als je even de grens overwipt om bijvoorbeeld in Kranenburg bij de Aldi boodschappen te doen of te tanken. Alleen mensen die langer dan 24 uur in Duitsland blijven moeten dat melden, zo laat de deelstaat Noordrijn-Westfalen weten (de deelstaat die aan een groot gedeelte van Nederland grenst). In onder meer winkels en bij de tankstations geldt nog een mondkapjesplicht.
Het onvermijdelijk dat Nederland en België weer als hoog risicogebied bestempeld zouden worden. Belangrijk is wel dat het kleine grensverkeer mogelijk blijft.
Kerstmarkt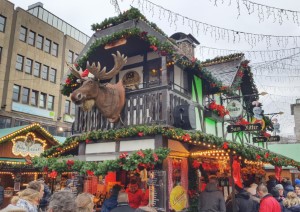 Wie van plan was om de komende weken een kerstmarkt in Duitsland te bezoeken, kan dat vooralsnog gewoon doen, zij het dat hier het 2G-regime geldt:
alleen toegang als je gevaccineerd of genezen bent.
Mensen met enkel een negatief testbewijs zijn niet welkom.
Er wordt steekproefsgewijs gecontroleerd. Dat 2G-regime geldt overigens voor het hele Freizeitbereich (restaurants, musea et cetera):
Dus geen toegang voor mensen met alleen een negatieve coronatest.