 Elke zondag is de eucharistieviering live te volgen via een uitzending op internet.
Dit gebeurt door middel van een livestream. Videobeelden worden dan live naar YouTube gestuurd, en zijn dan voor kijkers met enkele seconden vertraging te zien. YouTube (spreek uit: joe-tjoeb) is een website van Google waar filmpjes bekeken kunnen worden.
De parochie publiceert elke week een videolink naar ons YouTube-kanaal. Door deze link in Google of in YouTube in te typen gaat u rechtstreeks naar ons kanaal. ('Link' is kort voor 'hyperlink', een verwijzing naar een video die op internet staat).
U kunt ook eerst naar YouTube gaan en in het zoekveld bijvoorbeeld KSCC Nijmegen typen. Of KSCC en dan de datum van de uitzending. Echter het snelst gaat het wanneer u de videolink gebruikt.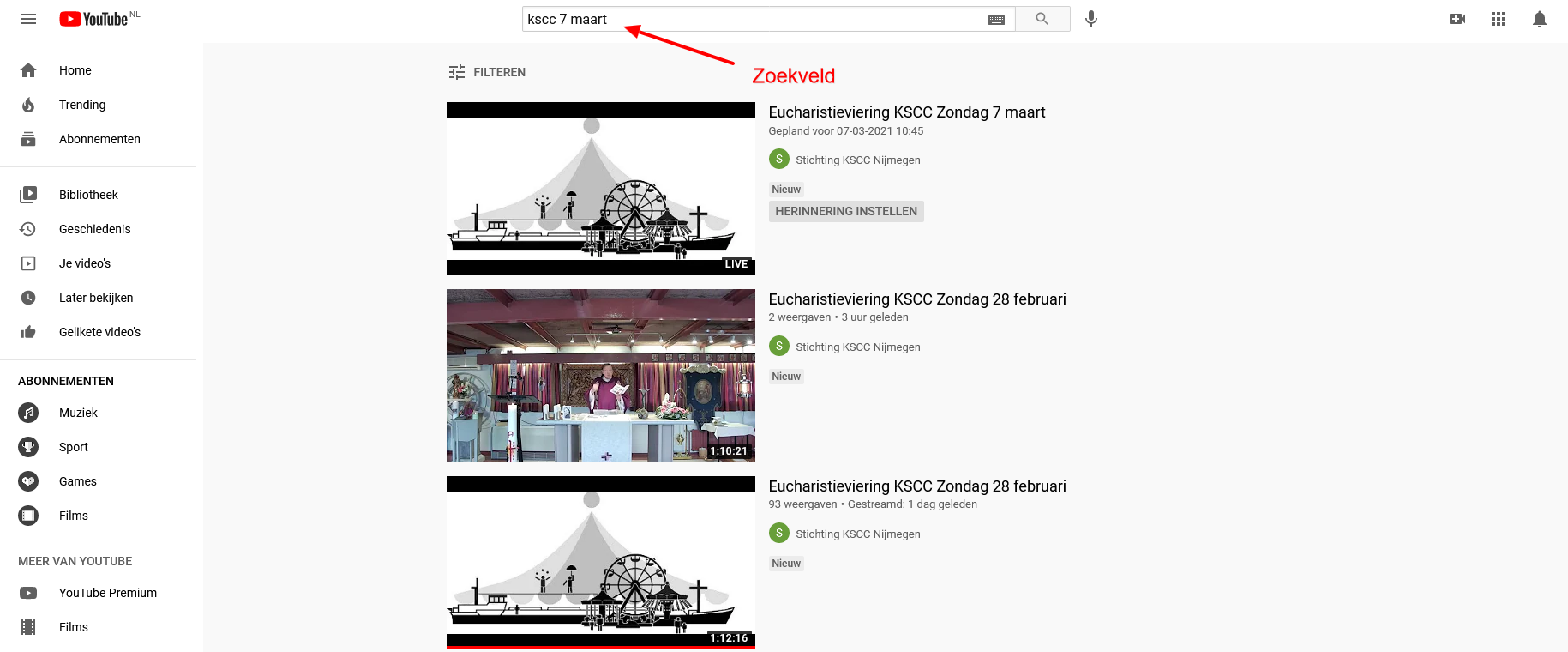 Livestream volgen
Bekijk deze dan zo:
Klik in een van de overzichten op de livestream met de juiste datum.
De livestream opent en speelt af. Er kan eerst een (korte) reclamevideo te zien zijn. Beweeg met de muisaanwijzer over de video om een menu te zien. Klik desgewenst op een optie. Hieronder een toelichting van een aantal knoppen uit dit menu:

: pauzeren van de video.
: geluid dempen.
: video op volledig scherm afspelen.
:video terug naar klein scherm
De viering begint zoals vertrouwd om 11.00 uur. In het kwartier voor de heilige Mis kunt u kijken naar drie clips: Kermis, Binnenvaart en Circus. Klikt u hieronder op het minibeeldscherm om de H. Mis direct te bekijken. Klik in het minibeeldscherm op het witte vierkantje rechtsonder voor een groot beeldscherm.
Om 10.55 uur luidt de kerkklok.
Na het einde van de viering stopt de uitzending en kunt u de computer afsluiten.
U wilt de uitzending terugkijken of heeft u de uitzending gemist? Geen probleem. Gebruik dezelfde videolink of gebruik dezelfde woorden om te zoeken in het zoekveld.